Main:
Bands:
Media:
Other:
Krist's Equipment
STRINGS
Rotosound Bass Strings
Krist used Rotosound strings, RS66 Long Scale, Standard Gauge.
GUITARS
Ibanez Roadster
Shown in that very early photo of Krist with his tongue out.
Ibanez Black Eagle 2609B
Krist had 3-4 these, one of which I modified to have a rosewood neck. These basses were frequently toured throughout the band's career. One can be seen in the sliver video and parts of the footage used for the Sub Pop In Bloom video.
Gibson Ripper
Krist had at least two of each in Ebony and Natural finishes.
One of Krist's 'Natural' Rippers can be seen in the Come As You Are video; An 'Ebony' model can be seen in some of the footage used for the Sub Pop In Bloom video (you may also have seen it smacking Krist in the face at the 1992 MTV Music Awards!).
Gibson RD Artist, in Ebony
Krist had two RD Artists which he toured heavily circa '91.
Gibson Victory, in Silver
Krist broke this bass in Europe and the headstock hit a fan in the mouth, with a nice lawsuit that followed!
60's Japanese Zen-On Bass
Can been seen in the Smells Like Teen Spirit video. I'm not sure how he got it but probably bought the day of the shot in LA at a pawnshop. Zen-Ons were sold in the US and Europe, like many 60's Japanese made guitars, under many different names depending on the importer. Krist's could have likely bore the Silvertone label, but it's hardly worth getting too wrapped up in as it may have been bought an hour before it was destroyed!
Ampeg AEB-1 'Horizontal' Bass
The In Bloom video was to look as if it were filmed in the mid 60's and to have that kind of British invasion quality to it.
Krist phoned to ask if I had any cool 60's basses for the shoot and I remembered still having the Ampeg that I played back in the early 80's.
Gibson Thunderbird IV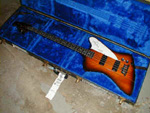 Krist had two T-Birds, one in Vintage Sunburst and the other in Ebony.
I converted the Ebony bass from black to chrome hardware, and Krist eventually gave it to Matt Lukin of Mudhoney in 1994.
Gibson RD Standard, in Ebony
I gave this to Krist as a Kristmas present. It was used throughout the 'In Utero' tour.
Gibson EB-2
Krist also had a 1960's Pelham blue Gibson EB-2 bass on the 'In Utero' tour, I've seen photos of him with it in a songbook somewhere..
Guild B30E semi-acoustic bass
Used on the Unplugged session. This bass was rented from S.I.R. in New York, Krist didn't have an "unplugged" bass of his own.
EFFECTS
ProCo Rat Distortion
Krist's distortion pedal of choice.
Boss DS-1
On occasion in late 1992 Krist would use Kurt's old DS-1's (after Kurt made the switch to the Boss DS-2); For later tours he requested the return of the Rat.
AMPLIFICATION
Fender Twin Reverb
I think both Krist and Kurt borrowed Jack Endino's Twin Reverb for the recording of Bleach.
Fender BXR Bass Amp
This is the amp Krist used before he acquired the SVT II. I'm not 100% sure of when he came by it, but I think it was around the time of Sliver or possibly earlier. It became a back-up amp that lived in his rack for later tours but saw little use.
Ampeg SVT II head
The SVT II appeared in early 1991, I believe. It saw a lot of road and I'm pretty sure he used this for recording Nevermind. It was stock, if anything was changed it would have been the input jacks to something heavier. The SVT was used until replaced by the complex HiWatt rig.
HiWatt Custom 100 watt
Here is the somewhat complex HiWatt saga: I found Krist his first one at a Seattle pawnshop for $300, and it had been previously drilled for a preamp output on the back. Andy Marshall at THD Electronics upgraded the preamp line out and modded the amp for KT-90 tubes (see below for more info). We bought a Groove Tubes speaker emulator to run the entire amp through the power amps and into the array of Boogie & Marshall cabs. The line out direct from the preamp sounded best, so we typically ran the HiWatt not utilizing the KT-90 output section at all, with the exception of the Crocodile Cafe show where I believe we used the HiWatts with 2 Marshall 4X12 cabs, and the recording of In Utero. For In Utero the HiWatts were sent out as was a 100 watt 1968 Marshall plexi Super Lead converted to 6550 tubes.
Andy: Krist came to me asking me to help him get the sound that Kurt Danielson from the group Tad had. From what Krist said, Kurt had the best bass sound he had ever heard. So, I helped him duplicate the amplifier I had set up for Kurt. It was a 1970s (I think) HiWatt DR103 100 watt guitar head. I then rebuilt the bias supply to allow the amp to properly bias the Yugoslavian EI brand KT90 power tubes that are rather important to the sound. They have a different bias requirement than the stock EL34 tubes. To add a bit more attack and tighten-up the bottom end, I doubled the capacitance in the first stage of the power supply. Also, I changed the driver-tube coupling capacitors to WIMA-brand 0.1 microfarad, 630 volt metalized polyester film capacitors, which, from my experience, gave the amps a more musical bottom end. I guess Krist liked it, because he seemed to use it a lot.
Crest 4801 Power Amp
Borrowed from Kurt's rig.
Marshall Plexi 100 with 6550's
Used for the 'In Utero' demo sessions at Reciprocal and the '94 session at Robert Lang Studios.
Speaker cabs
Peavey 2X15 ('Bleach' era)
4 Marshall 4X12's, 2 Mesa/Boogie Road Ready 4X10's and 2 Mesa/Boogie Road Ready 2X15's ('Nevermind' era)
Numerous Ampeg SVT enclosures ('In Utero' era)
The Recording Of Bleach
Bleach was recorded in 3 different sessions, for the first session Krist Novoselic had a Hohner bass that he borrowed from Greg Hokanson and a PMS amp, but appeared to be using a black w/white pickguard Fender Jazz Bass at the time.
For the second and third session Krist Novoselic used an Ibanez Black Eagle Bass through a Fender Twin Reverb(1)
The Recording Of Nevermind
Krist Novoselic used a SVT Bass rig (2).
Krist Novoselic used a Gibson Ripper Bass through an Ampeg SVT400 head (1).
In the In Bloom video the you can see an Ampeg bass amp which belongs to Nirvana guitar technician Earnie Bailey. Krist Novoselic used a ProCo Rat pedal for Breed and Endless, Nameless. (4)
The Recording Of Incesticide
This album is a collection of rare B-sides, BBC sessions, outtakes and demo songs from various studio sessions etc...
Dive was recorded with Butch Vig so Krist probably uses the same gear as on Nevermind, Most of the other songs the gear used would have been similar to either Nevermind or Bleach.
Krist Novoselic used a ProCo Rat pedal for Turnaround (4)
The Recording Of In Utero
Krist Novoselic used his Gibson Ripper again through a 200 watt Hiwatt head (converted to use KT90 tubes) through a Marshall cab.
On the In Utero tour Kurt Cobain and Krist Novoselic both went with 8 cabs each, all running fully wide open. (1)
The Recording Of MTV Unplugged
In November of '93, a few weeks before the taping, Alex Coletti (MTV Unplugged producer) flew up to a Nirvana gig in a remote part of New England, somewhere north of Boston. He was armed with rough sketches of the stage set which embodied Cobain's ideas, and with his own personal Ovation semi-acoustic bass guitar. The latter was meant to be loaned to Krist Novoselic in the event that the Nirvana bassist didn't have an "Unplugged bass" of his own. In the end, Novoselic didn't use Coletti's Ovation bass, but rather a Guild acoustic/electric bass rented from S.I.R. in New York an instrument that has been used on other episodes of Unplugged.
Krist Novoselic also played Accordian on Jesus doesn't Want Me for A Sunbeam it is a Dobren. It was Kurt Cobain's, it was also the first instrument Krist Novoselic learned to play (3).
The Recording Of From The Muddy Banks Of The Wishkah
This is also a compilation album featuring live songs from 1989 to 1994.
The Nevermind tour (1991) according to Australian Music Trader says Krist Novoselic used a Gibson Ripper Bass through an Ampeg SVT400 head for the recording of Nevermind and that became his live rig. On the In Utero tour Kurt Cobain and Krist Novoselic both went with 8 cabs each, all running fully wide open but I am not sure of the Basses he used (probably a mixture of everything mentioned in the FAQ).